10 Google Ads Mistakes Startups Need To Avoid
People around me thinks I'm advocating Google Ads. I just love them that much, especially after knowing variety of Google Ads mistakes to avoid.
This is of course with a reason; I've been using Google Ads for some time now, and results have been pretty great!
Usually, Google Ads is being used alongside Facebook Ads with different needs and goals.
Are you using Google Ads as one of your digital marketing instrument? Read this proven digital marketing strategies in 2022 so you don't miss a chance.
If you have yet to use Google Ads as part of your digital marketing effort, you might be missing out big time.
Yes, I know, SEO might be free, contents are what people seek, but these alone won't get you far. You'd always want to channel that ubiquity for your brand.
On a brighter note, you are here for the right reason, and I'm going to make sure it stays that way. Below, I've listed 10 Google Ads mistakes startups would most definitely need to avoid.
Also read: Top 10 Skills Required for Digital Marketing Career
Let's get right to it.
1. Diving in without a plan
Whether you are an individual, or a massive e-commerce, planning your journey before launching Google Ads campaigns will be one of the key steps for you to do.
For some accounts (especially those with lower budget), Google Ads might seem simple and straight-forward the moment they started their campaign.
Unless you're not planning to make money out of your Google Ads, a successful, scaleable campaign requires extensive planning.
So what needs to be a part of your plan?
There are a couple of aspects that you need to think about. A good start to your plan will be to consider who your target audiences are, what your primary objective is, and research for prospective keywords.
Having this mindset in mind encourages you to plan your campaign by taking into account other factors that matter; your marketing budget, timeline, how many ad groups, and more.
Diving straight away without a plan can easily be a path to waste your marketing budget, hence a critical Google Ads mistake to keep in mind.
2. Using too many keywords
As written above, using too many keywords can stab you back. To support this point, we provide you some memes that are related.
Startups and individuals get excited to start their first Google Ads campaign. It feels like they have this incredible power to target all sorts of keywords, hoping to attract more audiences.
Where will this mindset lead business owners too? Most of the time, poor ROAS.
Most of the time, using too many keywords at once is the result of poor planning mentioned. You always need a proper keyword research for optimum results.
Being a self-taught digital marketer, I've done all sorts of errors myself. I have to say this might be one of the costliest one. But why?
Bidding on too many keywords meant creating more ad groups, more ad creatives, more landing pages, and ultimately, demand more of your time, budget, and effort.
With your plan in mind, try to focus on keywords you think matter the most. Most importantly, always think about your budget and objective.
One tip: A general rule of thumb is to not bid more than 20 keywords in a single ad group!
3. Not using keyword matches
One of the best things about Google Ads is that it's extremely customisable. While this gives a good amount of control to users, beginners still have plenty to catch up.
So what are keyword matches?
It's basically how close a keyword needs to be with the audience's search query in order for the ad to 'hit'.
There are 3 types of keywords matches currently; broad match, phrase match, and exact match.
Broad match: Ads will be shown when your audience search for any of your given keywords, regardless of the order. You can trigger broad match by simply bidding the keyword as is (cheap phone 2020)
Phrase match: Ads will be shown when your audience search for your keywords in the exact same order.

 

You can trigger phrase match keywords by adding double quotation marks ("best car in 2021")
Exact match: Ads will only be shown when people type for the exact search query. To add an exact match, add a squared bracket for the keyword ([best car in 2021])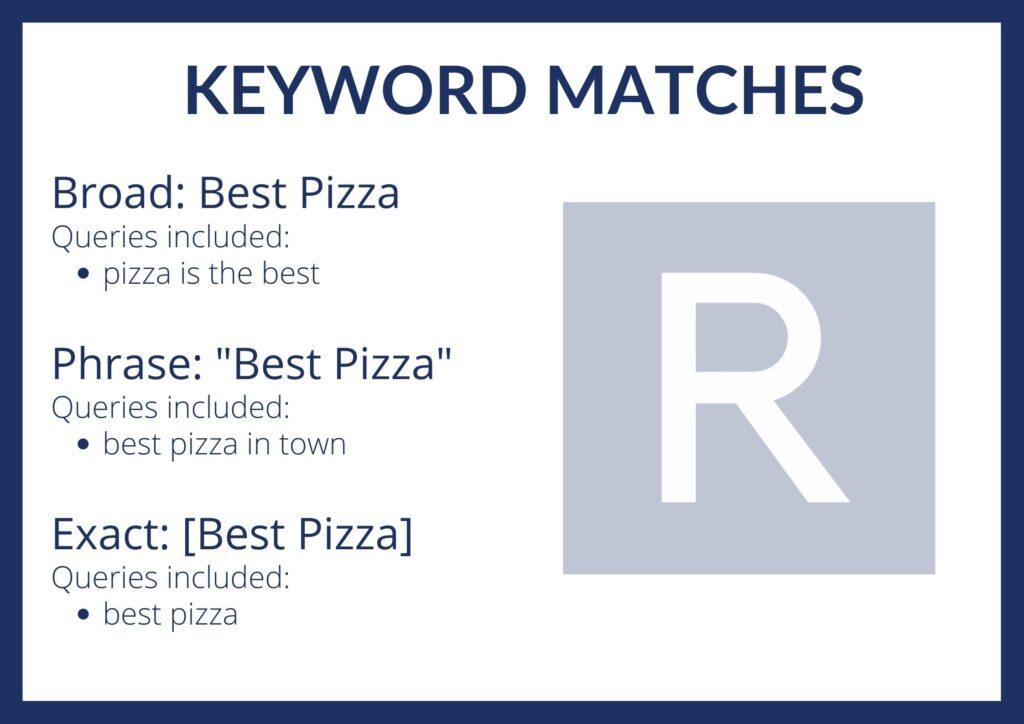 There is no right or wrong answer on which keyword match is the best. You'll have to be strategic when selecting keyword matches though. All depends on your objective and budget.
Same as keyword research, you also have to research a trending content based on keyword search.
4. Not using any ad extensions
New advertisers neglect this feature A LOT. I assume it's because they're optional, and Startups would rather start burning cash right away.
Adding ad extensions as a part of your campaign means providing more information for your future audiences.
These additional information can be in any form; structured snippets, sitelink, callout, phone numbers, and more.
Another reason why I love ad extension is because it can provide you with more real estate within your audience's search query!
Ultimately, you'd want to see a CTR increase with ad extensions, though this is only possible with the right copy, and only when you're using the right extensions.
Not using ad extension will be a massive Google Ads mistakes you should definitely avoid.
Also read: How to Choose the Most Suitable Digital Marketing Agency
5. Not using negative keywords
I've seen a lot of accounts without any negative keywords, this is a huge mistake.
Adding negative keywords will be incredibly useful to filter search queries from your audience. You can exclude those keywords are unrelated to your offerings.
Consistently adding negative keywords will lower your cost because you're slowly increasing the quality of prospective traffic that comes in, which increases your Google Ads quality score.
You might ask "Why don't we just use exact match keywords to prevent this?"
Think about this; although you've spend hours conducting keyword research to find the most ideal keywords to target, at the end of the day, you're not your target audience.
When you're adding negative keywords, you'll be exposed directly to countless search terms from your audience. In other words, you can see how people search, and if their queries are relevant.
The best example involves 'paid' and 'free'. If your product/service requires people to pay from the get-go, then it's always good to include 'free' in your negative keywords to prevent a high bounce.
One tip: I highly recommend not to use campaign-level negative keywords. Instead, try customising them according to your objective.
6. Using only 1 landing page
If you're reading this now, there is fair chance that most of your ads will be redirected to your home page; a page where (you think) a lot of magic can happen. This is one of the most fundamental Google Ads mistakes at its finest.
When using Google Ads (or in this case, PPC advertising), it's important to conduct all sorts of A/B testing. Landing page testing will be one of those.
You can test all sorts of things with landing page; from CTA, button colours, landing page layout, copies, and plenty of other variables.
Ultimately, you'd want to measure which landing page is more successful by looking at a couple of things; your clicks, bounce, sign ups, and more.
There are a couple of websites out there that specialises in landing page optimisation and test. I'd recommend Unbounce, and Optimizely.
Also read: 4 Impactful Tips to Kickstart your Digital Marketing Career
Still related to testing, you're missing a huge opportunity to learn when you're not testing elements of your Google Ads campaign.
You should always be split-testing because you'll never know any hidden opportunities that could attract people to clicking your ad.
It's also not uncommon to see smaller test to result in a significant change (I'm talking about 2x change in CTR or higher). You just can never predict which element is it going to be.
The latest successful experience I've had involves A/B testing my client's headline. But I've never excluded testing other elements like extensions and landing pages.
One tip: When setting your campaign for the very first time, try your best to do things manually as this will keep you in control, which is always a good thing for initial testing.
8. Changing your settings every single day
You've just started Google Ads. You're excited with the amount of control you have.
You decided to start with $20/day … and you start changing different settings every single day.
What's wrong with this?
Simply put, in most cases, $20 is not going to give Google enough data to work with. Changing all kinds of campaign settings will interfere with Google trying to learn.
Most importantly, you'll need A LOT of time to gather data, and make informed, data-driven changes.
If a campaign is new, I'd suggest to let it run for at least 2-4 weeks to gather enough data (depending on the budget). However, ads that have been longer can be adjusted more frequently (perhaps once a week).
Of course, if you've made an error while creating or adjusting your campaign, this is an exception.
One tip: Be mindful of any fluctuations. While fluctuations with smaller budgets in a new campaign might not be significant, start paying attention if it concerns campaigns that have been active for long, or those with a decent budget.
Also read: 3 Marketing Lessons Squid Game can Teach Us
9. Poorly written ad creative
I have to put this here. Plenty of entrepreneurs still underestimate the power of creative writing, and how much impact it would bring to your Google Ads campaign.
Put it this way; no matter how well-targeted you campaign is, and how exquisite your technical optimisation and landing pages are, if you write a poor copy, no one's going to click your ad.
It's THAT simple.
Writing a good copy is a lot like writing a compelling headlines. Sure there is always A/B testing, but having a good understanding of your audience will give you an idea of what kind of approach is the most effective.
Try engaging sentences, ask them to do something as a next step, and be unique compared to your competitor!
10. Not setting up conversion tracking
Conversion tracking is a tool that you can use to help Google identify valuable actions within your Google Ads. This gives the algorithm precious information that they can define as success.
You can set up conversion tracking here…
There is always a few clients that have yet to settle their conversion tracking, perhaps they think it's complicated to set up, or they don't even know such tool exists.
Conversion actions can come from other tools such as Google Analytics, or setting it up yourself via Google Ads.
So what will the algorithm do to these data?
They will optimise the way they deliver your ads according to the data they've gathered as 'converters'
One hot topic I see around conversion tracking is "campaign-level conversions". I see this as a way that can really boost the effectiveness of your Google Ads Campaign.
However, bear in mind to adjust your bid as there is a fair chance your acquisition cost will fluctuate. Also, make sure to always experiment first.
Prevent Those Google Ads Mistakes!
Ads are still incredibly effective, especially when targeted and optimised well. It can help you achieve that ultimate goal of yours; more sales, traffic, leads, purchases, and more.
The key to Google Ads (apart from not making those 10 mistakes, of course) is to be in your customer's shoes, and find out how to best approach them.
Remember, Google Ads will rely on search intent, so having a clear journey map can definitely help you target the right keywords, and prevent yourself from making those mistakes.
Also read: 5 Digital Marketing Strategy For Your Startup To Start Now