Viral:

How to Find and Create Trending Content
Creating content is one of the most important tasks of a digital marketer, and I think the trendier it is, the higher the chance of a campaign achieving success.
If you are skeptical that creating content is not a digital marketer's priority, well you are definitely wrong. In fact, it is one of the top 10 skills required for a digital marketing career!
What Is A Trending Content
One of the key success metrics for a campaign is to connect with your audiences with trending contents across all your social media platforms.
This research is conducted for growth, improving the underperformers, re-promoting your brand, and also understanding where to put your content marketing resources going forward.
When it comes to this research, it is not just research on what's publicly trending, but also how competitors approach these trends.
What kind of trends do they target? What are their objectives? What media do they use? For how long are they executing the campaign? And many other aspects to research.
Sometimes we might feel all these processes are unnecessary, but these research needs to be done so well as a part of your foundation for campaign execution moving forward. This way, we could do more, and we can do it better.
Before you create a content, you have to determine your goal. It can be one out of these:
Increase brand awareness
Drive traffic to visit website or profile
Generate new leads
Gain sign ups
Grow revenue
Build communities
However, each campaign should have a different goal. Furthermore,  each campaign goal can complement each other.
Beside complementing each campaign's goal, you should also collaborate it with other digital marketing activities.
Do you happen to know proven digital marketing strategies in 2022? If not, read this one!
Also read: Interesting Facts of Digital Marketing Bootcamp
How to Spot the Trend
So, here's what you can do to know what's trending:
You could use Google Trends to find what's trending. Additionally, you could also connect the trends with SEO or Google Keywords.
Let's see how the trend looks like for "digital marketing" in mid-July 2022 worldwide.
To complete your keyword research for your SEO, there are plenty of free SEO tools to improve your digital marketing faster.
2. Threads or Communities
Explore on threads and communities such as Reddit to identify what's trending now.
It is probably more engaging to the audience because the prospect trending contents becomes a discussed topic between community members.
Well, let's see what is trending on Reddit as per today I am writing this blog.
From here, you can see some keywords for you to create the trending content.
As you all know, Squid Game has also been the trends for over a period of time. It is one of marketing campaigns plenty of brands did to boost their brand. You can see everyone is talking about it, with lots of memes created from it.
Also read: How to Choose the Most Suitable Digital Marketing Agency
3. Social Media
Explore trending hashtags on social media, mainly Instagram and Twitter.
Why does it have to be social media? Because there's a lot of users actively communicating and sharing to one another. Trends change pretty quickly here.
But not only a hashtag, it can also be the content. From there, you can decide how you want to convey your content. It can be in any forms, like videos, infographics, podcasts, memes, etc.
Let's try to see #digitalmarketing on Instagram. Here you can see posts regarding the hashtag from various countries. You can see what is being discussed, or what's the key point of the post.
To know what hashtag is trending now, we give you a list of some top Instagram Hashtags here.
Content Strategy
Creating content requires digital marketers to be creative and strategic. It must be appealing, easy to read or see (consume), and convey the right messages. All of this has to be delivered and understood by the audiences.
But be mindful, sometimes a trend can be misused or misleading. But also be tactful, because it can be our opportunity to go viral.
Not every content has to be related to our current event while we optimize the momentum of trending keywords.
Why should we be mindful? Because the impact can be positive or negative.
For example, hashtags on Twitter.
Sometimes, a tweet is not relevant at all with the hashtag used. It could expose our brand because of the trend, but it also could damage our brand if we cannot cover it in the right way.
Let's see the screenshot below.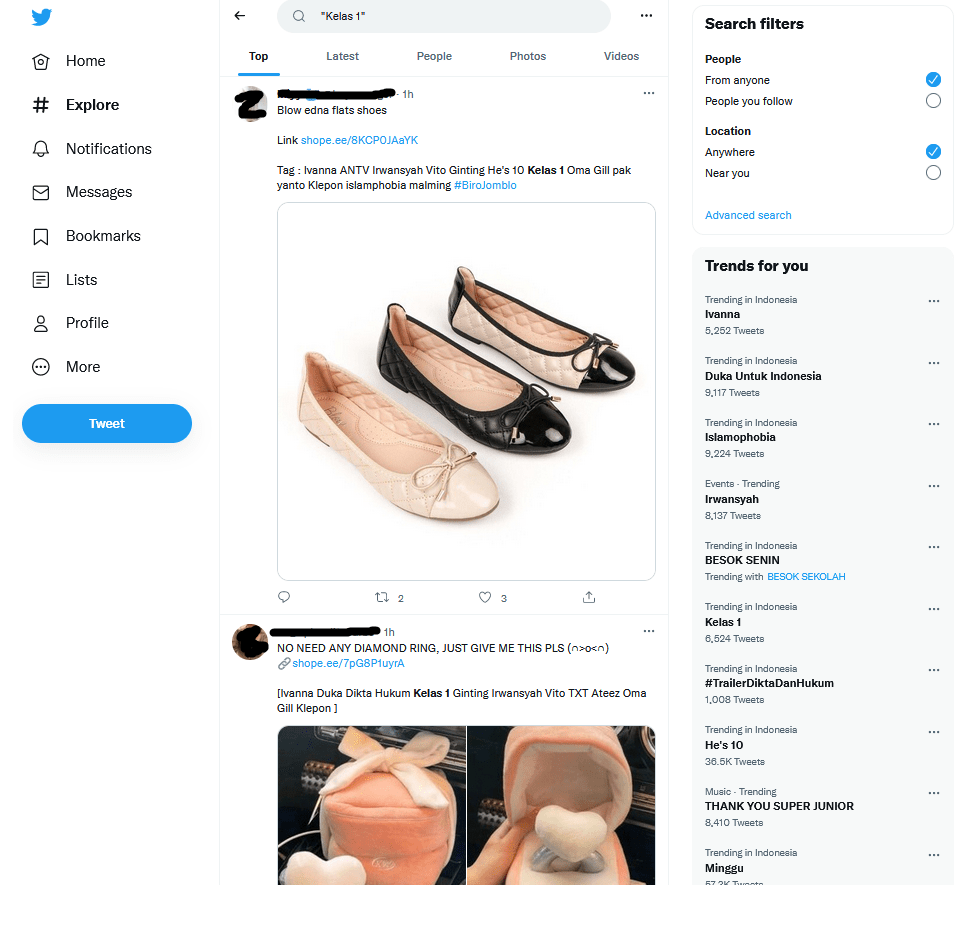 As you can see, the box on the right says "Trends for you". This is what's trending  as I'm writing this blog in Indonesia.
Let's focus on the words 'ANTV, Klepon, TXT, Ateez' within those two tweets. These words have nothing to do with the picture, which their objective is to grow revenue by selling products.
There's a lot of explanation here, but allow me to express what I believe.
"ANTV is a television station/channel, Klepon is traditional snacks, while TXT and Ateez is a South Korean K-pop boy group."
So, this is an example of misusing the trends but is actually a part of their marketing strategy.
It's your choice to use this hashtag as a momentum or strategical. But always remember it has to be based on your objectives.
Create Your Content Trend Now
Do memes represent your brand? If yes, try it.
It's necessary for a brand to be recognized. But as digital marketer, we need to do something to make our brand stand out and be able to communicate to the audience.
That's what is called a successful content marketing campaign.
Remember, the first thing you need to do is to determine what your objectives are by creating content marketing.
It's true that we should aim for the momentum of a viral event before it starts to fade awat, but keep in mind the result might not go well to reach the objectives if we just proceed without clear plans and goals.
Conduct research, research, and research. Don't worry, because there are plenty of options, starting from the trending keywords and the usage of media.
It's never been easy to find and get a direct hit. But with the plan and correctly executed, it's very possible for us to have a successful campaign.
If you new to digital marketing, you can read this.
Good luck on creating trending content!