4 Impactful Tips to Kickstart your Digital Marketing Career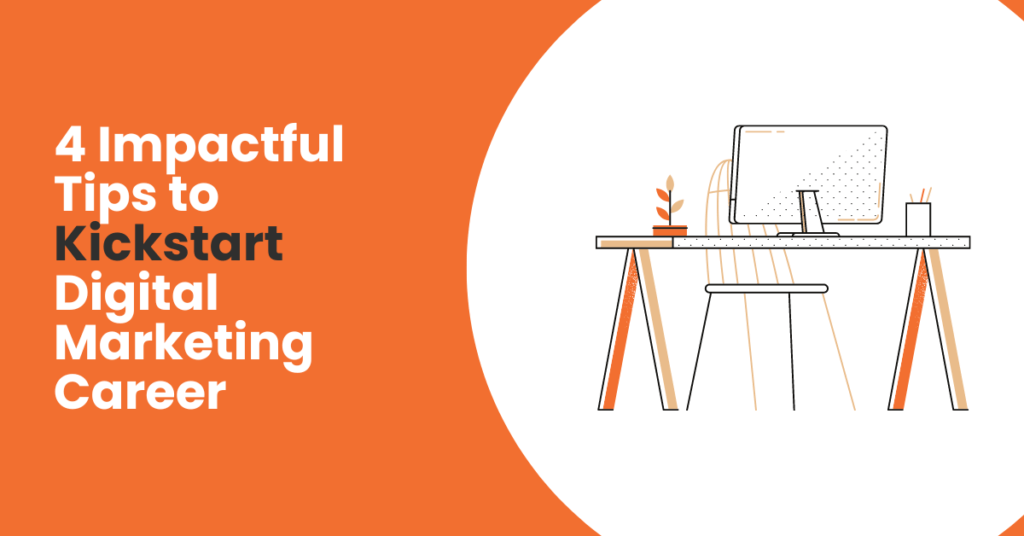 Good tips, smart career.
Do you want to be a digital marketer? Are you planning to shift your career to digital marketing? Or you are a digital marketer but feels like you're not learning something new?
Well, we've all had our problems and issues, and to kickstart your digital marketing career is always a decision to consider.
You could either apply to a mainstream company, or you can apply to a  digital marketing agency, which has a different environment.
Every business nowadays wants to hire a marketing team that has an excellent digital IQ alongside technology that will play a big part in changing the world.
This means, people who work well in the digital sector will be alot more needed from now on, including digital marketing.
Doesn't matter what your business model is, both B2B and B2C requires a digital marketer.
Because there are a lot of digital marketing opportunities, you don't have to be afraid of losing this job quickly. In fact, digital marketing careers are in high demand.
A data on LinkedIn shows that Digital Marketing Specialist is one of the most in-demand occupations by volume job posting. See the list on the image below.
In this article, we will give you 4 most impactful tips for you to start way ahead.
But before we go deeper into the special section, you should read this article to understand 10 skills that are required for a digital marketing career.
4 Impactful Tips to Start Digital Marketing
So, you might have questions around this.. What should I do? Where do I start? How do I do it?
Now, we give you 5 tips for you to be able to enter the digital marketing career "realm".
1. Develop skills and get certification
We are nothing without knowledge, both soft skills and hard skills.
When you apply for a job, you need to show your knowledge and skills required to do the job.
You could join some classes and get a certificate to show that you are capable and/or have done some projects regarding digital marketing. Besides, you also show that you are worth competing with other candidates.
But you have to be able to work as a team too. Having lots of certificates but loves to do everything solo might not be the best idea.
There are two options, learn digital marketing as a whole, or focus only towards one as a specialist. One of a couple digital marketing specialists that has been a topic for online classes is SEO.
Are you diving into SEO already? Then I have a list of free SEO tools for you to excel your digital marketing skills a lot faster.
There are a lot, definitely a lot of digital marketing aspects you need to learn.
SEO, PPC, CRM, CRO, these are not jargons. These are definitely concepts you need to understand. 
Even if you have been accepted, the key is to never stop learning and practice.
2. Open to criticism and listen to tips
With your strength, people will discover your skills. However, it is also equally crucial to listen to someone a lot more experienced than you, especially when they are giving you good advice.
Remember, they don't criticize you because they hate you, but they want to make you a better marketer, or simply a better person in life.
Criticism does not always lead to a negative impact. I also wouldn't say that it is a positive approach, but let's just say  it is a constructive one.
It doesn't mean that you have plenty of weaknesses. It doesn't mean that you are not capable.
Being constructive means shaping a person's character to be better in the future.
Also Read: 10 Google Ads Mistakes Startups Need to Avoid
3. Be curious
Every business has a different kind of users and situation, the factor could be product, competitive market, and a lot more.
When you encounter a certain complex situation, knowledge that is learned through theory won't be as useful if you cannot apply it to solving the actual real-life problem.
You have to think critically to overcome the situation. Being curious is one of the ways that you can do this. For example, the marketing of Squid Game really takes the opportunity to the next level.
What if you don't want to know about what's happening in the market? It will be difficult to get the public's attention.
First come, first served.
Yes, that phrase defines this condition perfectly. When your competitor does digital marketing activities first and it goes viral, you are already losing the battle.
If you want to know how to find and create trending and viral content, find out here!
From there, you could build and plan digital marketing strategies for your company. With this, you could save energy, time, money, and get the optimal result.
Be curious, analyze, think critically, act fast, get results.
4. Be humble, don't assume you're over-qualified
Being humble is the key for any jobs you want to take.
Don't ever feel that you don't need to learn anymore just because you are very good at certain things. Keep learning new things everyday, this is the first mindset to have to move forward.
If you overqualified yourself, recruiters might be reluctant to hire people like you. If you show the attitude of not wanting to learn, it might be difficult to land a job, any job in fact.
Confidence is good, having a positive mindset as being the best is also motivating. But make sure to always know the limit.
Get Ready and Kickstart Your Digital Marketing Career Now!
Your passion is your key to success. If you are passionate about digital marketing, then go for it!
Consistently learn and train yourself, meet some people and do some projects. The result doesn't have to always be perfect. What's important is to enjoy the process.
To give you some tips, here are the best 5 proven digital marketing strategies in 2022 to help show your ability not just in digital marketing but also in market research.
Being dedicated and consistent for a long time is very not easy. Often, people fall because of the "noises" around that distracts us.
I've been there myself, being lost and don't know what to do. Until I decided to take a step further to take my career path as a digital marketer.
And now, I'm at the point where I could spearhead a company's entire digital marketing campaign.
So, don't hesitate to tell me your stories and let's talk about it. I would be thrilled to hear your journey.
Good Luck!