5 Digital Marketing Strategy For Your Startup To Start Now
It feels awesome to run your own startups, until you realise the amount of workload involved across all aspects. 
Without a doubt, digital marketing should be one of the very first things to set up when building a company today, simply because (almost) everyone is online.
According to Hootsuite, over 59.5% population around the world (Roughly 4.66 billions) are Internet users. Imagine how powerful it is to stay in touch with your audiences from your phone or laptops.
Here's the problem; a lot of startups think digital marketing is extremely easy to learn due to its accessibility, and plenty thinks they can spend a few hours per day just to check their online presence.
Yes, you might have spare times to reply customers on Instagram, or design a post to upload once a week, but unless these magically goes viral, you'll have a hard time reaching out to those that matters.
Digital marketing is not solely about running social media or taking time creating a blog post; it's providing ubiquity for your audiences in order to guide them through their customer journey.
Do you consider to take digital marketing career path? First, you have to understand the skill that are required and see the tips here!
Here are some strategies startups might want to consider doing as soon as possible.
1. Establish your social media
Before you even start doing anything, establishing online presence with Social Media should be a priority from the get-go. It's one of the best low-cost strategy for your Startup.
There are currently over 4 billion active social media users around the world, which makes platforms such as Facebook, Pinterest, Twitter, LinkedIn and Instagram key to reach your audiences. An average of 2.5 hours per day is spent on social networks and messaging (DataReportal, 2021)
Social media marketing uses social media to reach out and engage to your audiences. You can share content, seek feedback, reply comments, announce updates, anything you can think of!
So why'd I stress the importance of social media?  Because these platforms are essentially the front-facing component of your business.
Think of it like hotel lobby you've never visited. The moment you enter, you started wondering how the room would look like, and the lobby tends to be a massive determining factors of your imagination.
If the lobby looks great, you'll feel excited. If it's extremely messy, you'll start second-guessing.
This is why it's very important to start your social media as early as you can. You'd want to make sure your branding is aligned towards your profile picture and cover photo, your copy is on point, and you have a few followers in advance.
You need to make sure your audiences won't have any doubts to click that 'follow' or 'like' button.  A well-branded social media presence can be the key difference for this.
Social media marketing has always been the way to increase your brand awareness, and it's definitely a great digital marketing strategy for your startup.
Also read: How to Choose the Most Suitable Digital Marketing Agency
2. Invest your time in content marketing
Content marketing has been proven to be one of the most successful ways to attract attention. Literally 90% of all organisations are actively building their content for audiences to enjoy.
Content nurtures and inform your audiences. They might find your content from a Google search, and gets hooked to your blog because they see you as an opinion leader.
Sharing content online can help your brand in so many ways. Most importantly, content gives your SEO a boost. This is what you might want to aim for.
Unfortunately, a lot of people still see Content Marketing as a waste of time (Including myself a few years ago). Frankly, it takes while for content to start showing a significant impact for your SEO.
However, once it starts kicking in, Content Marketing can be the cheapest and most effective strategy for your start up.
Let's look into proven digital marketing strategies that are proven worked in 2022 here.
A lot of companies you know have experienced a significant growth thanks to content; Evernote, Buffer, Rolex, HubSpot, Starbucks, and a lot more.

I've taken an example from one of my clients in the graph above. To summarise, this is how a consistent effort in content marketing can impact your SEO.
It'll take a while, but it works like a charm.
3. A head start with PPC marketing
Now, this can be a little tricky, and can easily lost you a good amount of money. Let me tell you why.
Nowadays, advertising has never been so easy. It is a blessing and nightmare at the same time.
It's a blessing as it provides accessibility to more people, but is is a nightmare as a lot these people don't know how to utilise PPC to achieve their goals.
Still, no startup should neglect PPC marketing to generate leads because of the amount of exposure you can have. According to SocialMediaToday, more than 7 million advertisers invested a total of $10.1 billion in PPC during 2017.
If your customer searches for "perfume Indonesia" on Google, Google Ads will place these ads at the top of their search results.

Pay-per-click advertising can offer you many benefits. You'll have full control over how much you want to spend, you'll collect almost-instant insights, and of course, you won't have to wait as long as SEO for results.
You might  now wonder "Which PPC platform should I invest in?". Well, as much as I want to say all of them, you'll have to think about the nature of your startup first. For example, B2C e-commerce might be better off with Facebook/Instagram Ads, while B2B software-as-a-service might want to give Google and LinkedIn Ads a try.
From my experience, pay-per-click itself will not give you a significant result unless you have millions to spend. However, paid ads can definitely help your brand presence to be more ubiquitous.
PPC ads can definitely give you a high ROI when executed the right way. The perfect digital marketing strategy for PPC ads will be those that embed their business visions and goals to the campaign.
4. Optimise (almost) everything for SEO
Although most consumers would think Google results are being shown randomly, search engines don't put top results however that want. Google's algorithm utilises more than 200 factors to rank websites.
Before explaining further, I'm going to give you a list of free SEO tools to improve your digital marketing faster.
Allow me to say this now; every startup should focus on SEO from the start. SEO is the process of getting traffic from search engines organically without additional cost.
To be specific, you'd want your website to show at page 1, within the top 5, because these accounts 67.6% of all clicks (For Google)
Recalling to what was mentioned in content marketing, SEO required A LOT of your time, effort, and commitment. Especially in 2021, ranking SEO has never been more difficult with all the competition you'll be facing.
But in the long-term, results will snowball as you grow because the impact lasts long. When optimised the right way, it's definitely a cost-effective method that yields a very high ROI.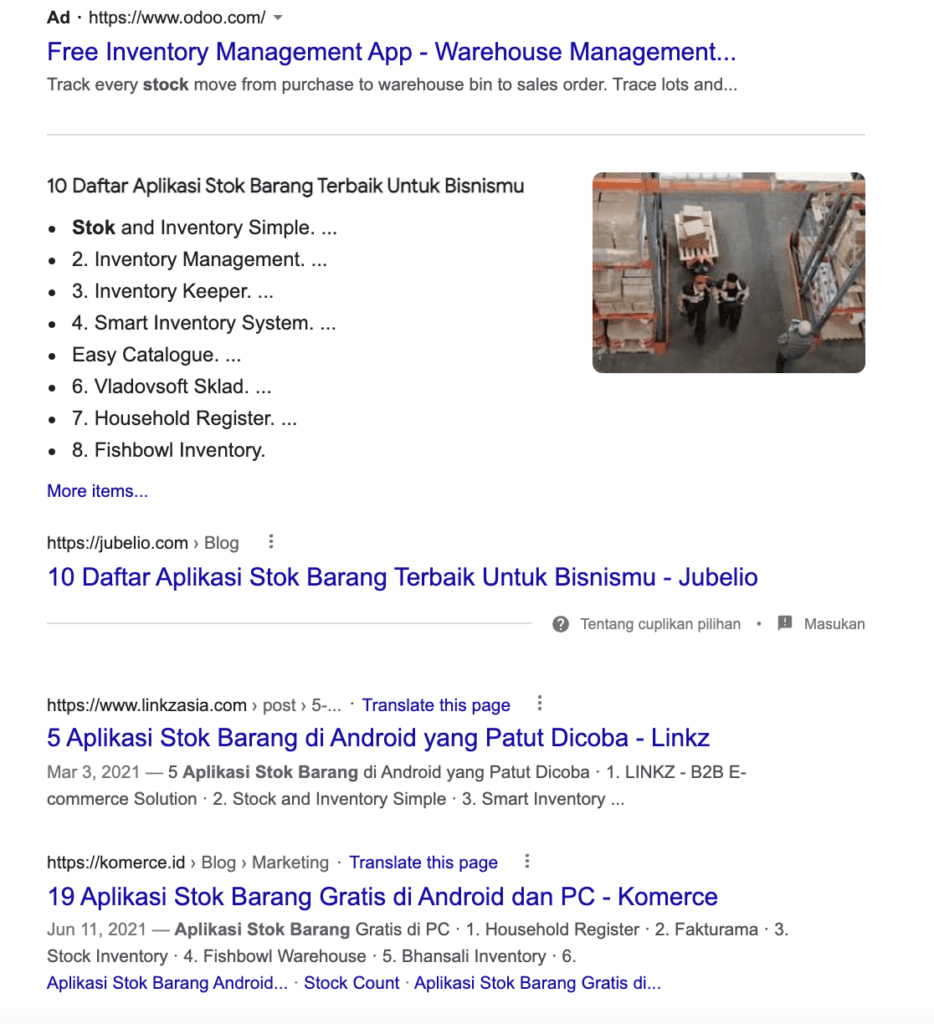 One of the most common and effective method to start your SEO journey is by starting a blog and optimising your website for key phrases your startup want to focus on.
Although the most common, SEO is not merely about spamming blog posts everyday. There are other components an SEO expert will need to work on as well; from off-page SEO to technical SEO.
One very important tip I can give you is; think from the journey of your customers. When they have a pain point you can solve, what kind of questions do you think they'll search on Google?
5. Focus on word-of-mouth
A digital marketer might be an expert in social media, pay-per-click, or SEO. But nothing beats the power of word-of-mouth. It's the pinnacle of Marketing.
In fact, 92% of people trust personal recommendations more than any other forms of information. So why not use this data to your advantage?
Word-of-mouth is powerful, simply because the information comes from someone they know well and trust. However, the challenge is about how to trigger this to happen.
Though depends on the nature of your business, you can create word-of-mouth through many different ways. One is referral program in different forms; 10% offs, $100 additional credits, a free month of premiums plan, and a lot more.
One of my favourites is stimulating word-of-mouth by encouraging user-generated content (UGC). You can initiate a contest, or repost user's content on your Instagram story. Your audience will love these!
Do you know that word of mouth is one of a way to create trending content? Well, it is. Let's look into Squid Game as the study cases for this matter.
Another one is by simply sharing testimonials/reviews. This will help reassure your audiences that your product or services are legit, and that others have had satisfactory experiences with your offering. In other words, this is what's called social proof.
Lastly, ask influencers to promote your brand. While this can be expensive and tricky, having the right influencer to promote your offerings at the right time can bring impeccable results for your word-of-mouth marketing. Make sure you've done your influencer research beforehand.
Let me stress this; this digital marketing strategy will not work by itself. You'll have to make sure other elements (e.g your blogs and social media) have channeled enough trust by establishing your brand image beforehand.
Move quickly, but calculated
These are a couple digital marketing strategies you'll be able to do right away for a startup.
Straight forward? It sure is.
Remember though, startups burn a huge amount of capital in order to grow. As a proud founder, make sure you move quickly, but calculating each steps along the way.
The key is to test, test, and test. If A doesn't work, try B. When B no longer works, try C instead!
These digital marketing strategies won't work after posting 1 image on Instagram, or a week after you launch your first Google Ads.
In the end, they're all interconnected, so give your audiences the ubiquity you need to plant your brand into their customer journey.