10 Free SEO Tools to Improve Your Digital Marketing Faster
As you all know, SEO is one of the responsibilities of digital marketing.
There are literally plenty of helpful free SEO tools for you to use from fundamental to expert.
Besides it's free, these tools are easy to use and user friendly. Hence, you can learn and your company will be improving faster.
But what we want to list is the popular, most useful, easy, and free ones.
There are two kinds of tools, keyword research tools and analytic tools. 
Keyword research tools are used to find the matching keyword with your audiences as desired, while analytic tools are used to know conditions and results of your marketing efforts.
According to Digital Marketing Institute, SEO is a valuable tool for brand awareness, building relationships with prospects, and positioning yourself as an authoritative and trustworthy expert in your field.
SEO become one of the most important strategies for company.
So, right to the business. Here's the list:
SEO Tools for Keyword Research
Google Trends help you to know what's trending and how popular the topic is by exploring what the world is searching for over time.
You could enter some keywords and choose your region to know the popularity. It also shows related topics and queries for you.
Use this information as a strategy to create relevant content according to the keywords.
Google Trends also help you to know what is viral around us, which could be used as content marketing.
The example is memes content.
Google Keyword Planner can help you to discover new keywords ideas to reach people that might be interested in your products or services. It gives you search volume and forecast on how the keywords could perform.
After you enter some keywords, you could view a list of search queries, suggested terms, monthly search volume, and competition rate.
You could even assign keywords in the desired region!
To see the exact search volumes, you'll need to run an ad campaign first. But, make sure you don't make these Google Ads Mistakes that commonly occur in startups.
Also read: 5 Digital Marketing Strategy for Your Startup to Grow Now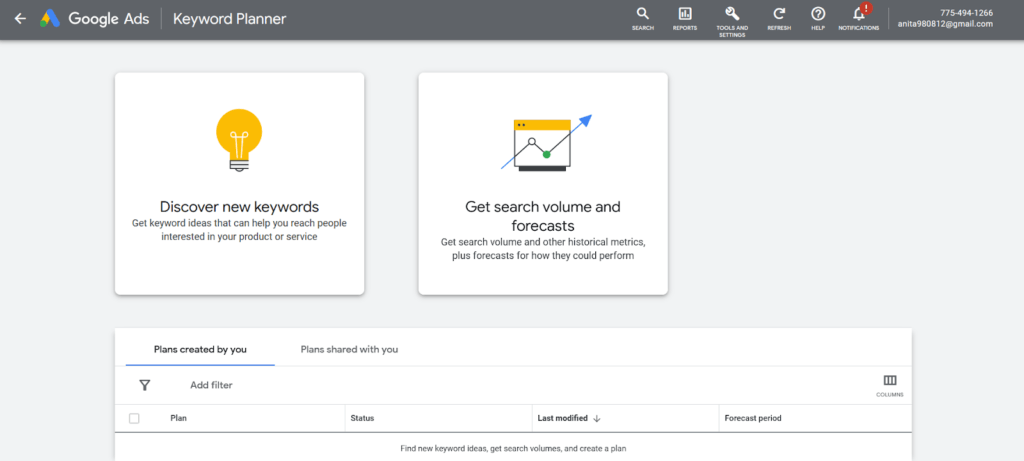 Technically speaking, this tool is just the lite version of the full one, but it's really valuable for anyone, especially for startups.
Ahrefs Keyword Generator is a free tool that can show you the top 100 related keyword ideas. You also can change the region as desired.
The keyword search will cover various SEO tasks, such as keyword research, on-page SEO, link building, and more.
Their goal is to help the SEO rank higher and drive more organic traffic.
Ubersuggest is a free SEO tool that helps users generate new keywords and contents ideas.
Meaning not only you'll get the data for each keyword, but it can also give you suggestions of the headlines so you can make spectacular content based on those keywords.
Though it only gives you 3 free keywords per day,  it is immensely helpful as the information given is massively valuable.
The data shows you about keyword search volume, cpc, paid difficulty, and seo difficulty, up to 30 keyword ideas.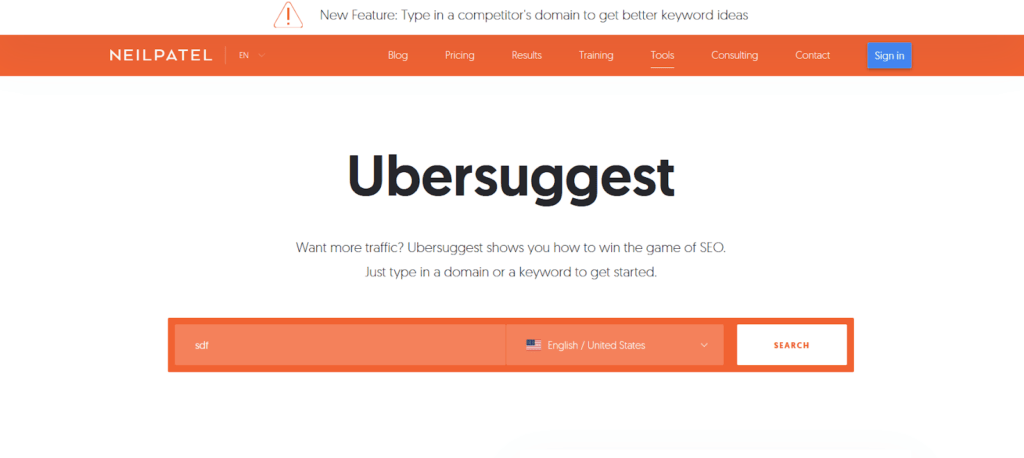 This tool is great, and I can say a lot of WordPress users utilize this tool
Yes, even myself for this website.
AIOSEO or Yoast SEO is a highly comprehensive plugin for WordPress. It will optimize every aspect of SEO needed and identify errors in a content.
Not only is the plugin suitable for on-page SEO or content optimization, it also the optimization of share on social media.
You can set the title, meta description, canonical URL, label index/no-index pages, and many more.
If you are managing websites, trust me, you have to try AIOSEO or Yoast SEO.
Also read: Top 10 Skills Required for Digital Marketing Career
If you wonder how Google Search Console works, it tells you what search engines think of your website.
Google Search Console helps you to understand how your new content is doing with crawls and indexes your site.
The purpose is to measure your site's search traffic and performance, fix issues, and make your site at a higher rank in Google Search results.
It provides queries to bring users to your site, then analyze your site's impressions, clicks, and position on Google Search. GSC also submit sitemaps and individual URLs for crawling purposes.
Personally, the highlight of Google Search Console is that it can help to diagnose and fix technical issues on your website by inspecting your URLs.
But, this tool only works for Google Search Engine. Other search engines have their own search console.
To know how your SEO campaign is performing, and the results of different initiatives you might have, you need to analyze the performance to see how the traffic is going.
With Google Analytics, you could see detailed data about your traffic and visitor in real-time activity.
The traffic source can be from many platforms that you might have not previously noticed, like outbound links or social media.
You could see the performance on a certain period, then compare it to the other period. Which I can say is really helpful for you to analyze your SEO and other Digital Marketing initiatives.
Basically, you are able to see real-time visitors, how many people are visiting your site on each page, where your traffic is coming from, what devices they are using, where they come from, how long they are active on our site, and so much more.
However, Google Analytics is not showing which keywords are sending you those traffic.
Google PageSpeed Insight helps you to check the speed and usability of your website on any kind of device (desktop, tablet, mobile).
All you need to do is enter the URL and it will test the loading time and performance of that URL for all kinds of devices.
It tells you exactly how fast it takes to load your site, and even suggests the section that can be changed, in order to improve page speed and ranks. 
Your site will be given a score from 0-100 based on the loading time and performance.
Also read: How to Choose the Most Suitable Digital Marketing Agency
Mozbar is an all-in-one SEO toolbar in the form of a browser plugin. It is extremely simple and useful. 
Mozbar mainly is used for research. It gives you instant metrics of PA and DA while searching something on search engines to measure the authority of the domain.
What's PA?
PA means Page Authority, which is the score given for a specific page. Even if it's under the same domain, the PA score can be different for each page.
And what's DA?
DA is a Domain Authority. It is the score given for a domain. Every page under the same domain will have the same DA.
Both PA and DA can be increased as time goes by, in accordance with how great your SEO goes.
This tool really helps you to gain trust from the visitor, as you have a high PA or DA. Your sites might appear on the first page and the first line of the search engines.
That being said, it could also increase your site's visit and credibility as well.
It takes time, but it's doable.
Ahref's SERP checker tools allows you to see real-time search results from any location without using any proxies and location-specific IP addresses.
It gives you a picture of an accurate ranking difficulty score and detailed SEO status.
It also shows you how much organic search traffic with keyword and backlink metrics to help you understand the ranking difficulty of a keyword and to gauge the competition.
This, coupled with our proprietary processing powers, help ensure that our backlink stats and SEO metrics are accurate.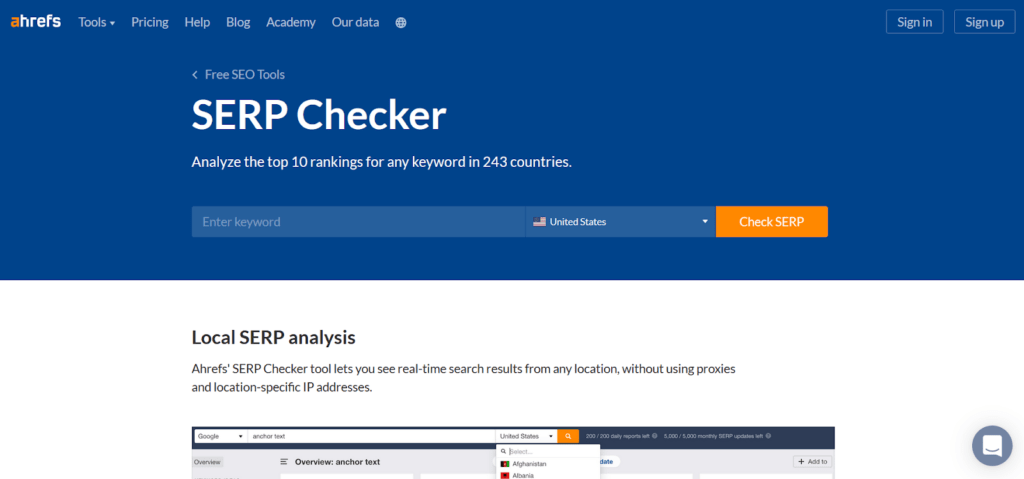 Free SEO Tools Is Not Bad!
SEO is one of the crucial parts of digital marketing strategies. The contents should have a high quality to support the SEO as well.
To understand SEO is very essentials for digital marketing career.
You can use plenty of these tools altogether, and watch how these tools can make you take more informed decisions for your digital marketing.
But don't use every single one of them, use the one that can solve your problems.
You could find marketing lessons anywhere, including from these tools. Even Squid Game teaches us some marketing lessons.
Thanks for reading, I hope you find this helpful!