Best 5 Proven Digital Marketing Strategies in 2022
How's Digital Marketing Strategies Today
Do I need digital marketing strategies for my brand or business?
Obviously, the answer is yes! It is highly unlikely for businesses to stop demanding Digital Marketing. It will be needed now and later in the future with ever changing trends.
According to Data Reportal in Digital 2022: Global Overview Report January 2022, the total of global population is 7,91 billion, with the total of mobile phone users is 5,31 billion and internet users are 4,95 billion.
Yes, digital marketers are needed now or later. With that, you need to have at least one or two skills required for a digital marketing career. Trust me, it is fairly straightforward!
This data shows that the world of digital is evolving, including those within the digital marketing realm.
Therefore, the way to approach audiences should never be always the same over a period of time. You need something new, something revolutionary.
Also, a huge amount of data doesn't mean that digital marketing gets easier. It is the complete opposite.
Digital marketers need to stay updated to what's trending worldwide, and to the latest changes in digital marketing methods and technologies.
When you discover a trend, marketers will concoct contents, combined with SEO strategies to support your findings and empower your keywords as a support of the trend.
There are plenty of free SEO tools to improve your digital marketing activities faster.
Since we don't want you to waste so much time, money, and effort for the less precise strategies, we got the list of the top 5 proven digital marketing strategies that might work in 2022 and will help to put your business in front of the competition and boost your business.
Also read: How to Choose the Most Suitable Digital Marketing Agency
Digital Marketing Strategies
So, what does "strategy" mean?
According to Asana, strategy is the action plan that takes you where you want to go, and tactics are the individual steps and actions that will get you there.
Strategies made by decision based on data, have clearly defined goals and contingency plans. While tactics are usually short-term planned, a good tactic is the one that is clearly tied to strategy, actionable, and time-bound.
Ready to instantly improve your digital marketing skills? Spend some time to read these strategies.
1. Video Marketing
Video marketing is and will be one of the biggest digital marketing trends, starting from 2020 where people got bored from the ever-lasting quarantine.
As we are constantly seeking entertainment, a lot of people started watching video contents especially on TikTok, which has a lot of trending content going on.
People don't only love to create video contents, they also love consuming it!
In fact, six out of ten people prefer watching videos through an online platform rather than a regular television.
This means, we are shifting further towards the digital realm and ecosystem now. We would rather watch videos anytime and anywhere rather than sitting on their couch with their family and friends. 
This is your chance to get attention through video marketing. This can't only be done through hard-selling advertisements, digital marketers can create entertaining and engaging content, thus increasing awareness and trust.
One of the best examples of video marketing was made by SodaStream. Watch the video above to get inspired.
You might want to boost your video through advertisements, including Google Ads and Facebook Ads.
We have tips about Google Ads mistakes that businesses, especially startups need to avoid.
Also, there are several important things you need to know before launching Facebook Ads. Make sure you run the right campaign.
2. Influencer Marketing
Influencer marketing is a type of marketing that involves endorsements in the form of product mention or product usage, yielding social proof (Sprout Social).
Some of the requirements are: having many real followers (usually plenty of well-known individuals) and high engagement with their own audiences.
It could be an opinion leader, who is an expert in a certain field. They also have their own niche audience.
It can be Will Smith, to Politicians (Only if they are open to it of course)
Influencers are willing to promote a brand's product, in exchange of not only monetary values (e.g money), but also free products, exclusive offers, and any other benefits based on what was agreed between 2 parties.
Why are there such things as influencer marketing?
Because starting your own brand awareness is extremely difficult, mainly because the cost is high.
Therefore, using influencer marketing is one of the choices to boost awareness, because it is cheaper than other marketing methods.
This is an example of H&M collaborating with fashion blogger influencer, Julie Sariñana.
Most people also don't trust brands easily, especially if they are already a loyal customer of a brand. A study by Edelman found that at least 66% of people don't trust brands as much as they used to.
The role of influencers are not solely promoting the brand and persuading their followers, sometimes a purchase target is also implied.
Influencers can not be separated from social media, namely Instagram, TikTok, Youtube, and Facebook. There needs to be a wide variety of channels, and you should choose more than one channel.
Of course, make sure to choose a reliable influencer, someone trusted with track records so you won't get scammed. Conduct a thorough research around their engagement, and make sure it matches your objective.
Also read: Interesting Facts of Digital Marketing Bootcamp
3. Marketing Automation
Marketing automation is a repetitive marketing procedures that runs automatically. The most common activities are email marketing and AI chatbots.
For startups, perhaps AI chatbots are a bit more difficult to do. But email marketing is one of the most basic tasks for any digital marketers.
Email marketing works by sending emails automatically when an activity is triggered. It can be from a website form or some events you make.
Create one email, send to all customers automatically.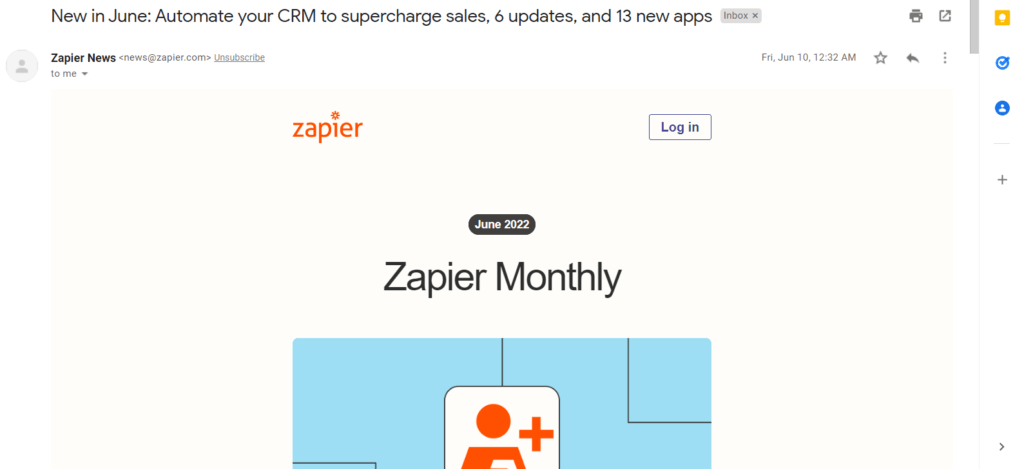 This is one email marketing from Zapier.
Beside the fact that it makes your company a lot more productives, email automation also increases engagement rate with your customer. They shouldn't wait for too long for an email, and they should definitely NOT not receive emails.
You might think a lot of these emails will end up in the trash. From the brand's side, at least we're putting effort to provide that one extra customer touchpoint as a brand awareness.
Creating automatic email marketing can also help you do remarketing. While not everyone remembers who or how many users are inactive, some email marketing can bring back lost visitors because of an offer or reminder via email.
Furthermore, Email marketing platforms has a feature where you can segment your email audiences . Also, with the help of AI, it can personalize their character.
Scheduling is an important aspect to keep in mind, and probably a bit complicated. But once it's done, it works like magic!
What you need is consistency, not too much but not too few. Don't send too much, because your contacts can report you as spam.
The cost is also affordable for a company, even for startups. There are also free ones.
Also read: 9 Memes of Digital Marketing That are Relatable
4. Affiliate Marketing
Affiliate marketing is a process where publishers earn a commission by promoting a product or service made by another retailer or advertiser (Shopify).
The affiliate partner is rewarded a payout for providing a specific result to the retailer or advertiser. You will get a commission in return.
The results can be sales, leads, users, visitors, or even downloads.
For example, if their product costs $50, they will pay an affiliate commission by 10% or $5 for each sale from you. The number depends on the agreements.
Affiliate marketing program costs are not high, yet with the right targeting can bring massive impact for you. This is always a good strategy for digital marketing, especially for startups and SMEs.
The affiliate marketing works similar to influencer marketing. Affiliates will refer to your products by sharing it on their blogs, social media platforms, website, etc.
Picture above is Full Time Filmmaker, an online film school, they implement affiliate marketing by giving discount for anyone who signs up to their courses to get special price and discount for any filmmaker gears and softwares by Canon and Adobe Creative Suites.
Also read: 4 Impactful Tips to Kickstart Your Digital Marketing Career
5. Referral Program
A referral program is a system where your customers can recommend your products or services to their friends and relatives, with incentives.
It works like word-of mouth marketing. But this time, with reward. It can drives customers more to refer to your products or services.
This program is not complicated and the costs are not that high. Consider it as a budget to get new, loyal customers, and there is a higher chance for this as your friends and relatives are being recommended by someone they know.
Uber is one example of a referral program.
Uber offered a cash credit (ranging from $5-$10) to new users who sign up via a referral. Plus, the referrer also gets the same bonus on their account balance.
Create One Now For Your Business
Thinking about how the world of digital keeps on changing and improving over time, the number of devices and internet users will increase as well.
This is YOUR chance to boost your digital marketing presence, and optimize your brand to be known.
The key for these digital marketing strategies is for you to update on what is going on now and create great content out of it.
If you want to beat your competitor and stand out, stay on top of trends, and get trending! But don't forget, it has to be correctly executed.
Squid Game is one of the good examples for trends. There are several marketing elements involving Squid Game, including word-of-mouth marketing.
Let's make a financial plan for your business and choose which strategies you would like to implement. Or let me know if you'd like a quick chat around your brand.
Also Read: 5 Digital Marketing Strategy For Your Startup To Start Now